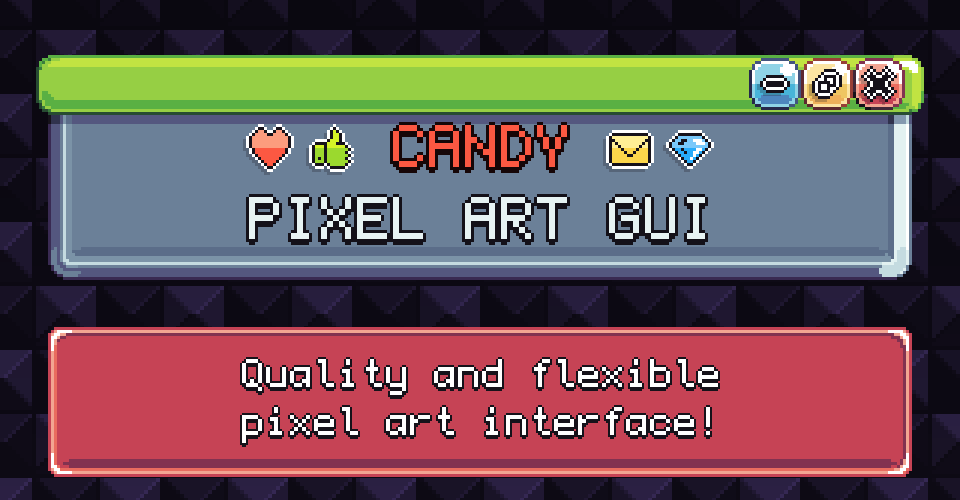 Candy Pixel Art GUI
A downloadable asset pack
This asset and many more are included as rewards on my Patreon!




Already a patron? Click here to download!
May 2021 Update
All my GUI asset packs now include the following extras:
Unity-ready 9-slice PNGs to be used with the Unity 9-slice feature
Pre-assembled window and button PNGs for each style with 25 different sizes. Just drag and drop into your app!
Now includes a tool to generate window and button PNGs of any custom size you want!
INFO
Welcome to Candy Pixel Art GUI, the first user interface in my pixel art GUI series! This is an incredibly flexible, high-quality interface that can be used for any kind of game or project.
Nine-slice windows and buttons give you the freedom to create ANY kind of interface layout, making it possible to display windows, buttons, and areas of any size.
Multiple area types are included, which means you can have separate graphics for inventory boxes, text areas, tooltips, and more! They're all nine-slices, so they can be made any size too. Over 150 unique icons are included for use with buttons... Or anywhere you like!
There are EIGHT window color themes included, and EIGHT icon color themes. That's right: Each one of the 150 icons comes in eight color themes. That's over 1200 icons total!
WHAT'S INCLUDED
Example images (PNG)
Button graphics with up/over/down states in 8 color themes (PNG)

Nine-slice (make your own size)
Premade 12x12 button
Premade 16x16 button
Premade 24x24 button
Checkbox
Misc. buttons (arrows, scrollbar sliders, other types of sliders)

Window, panel, and area nine-slice graphics in 8 color themes (PNG)

Window
Undecorated window (no title bar)
Header panel (two styles per color theme)
Panel (includes arrow point to attach to sides)
Subpanel (includes arrow point to attach to sides)
Area (includes "over" state and optional resizable bottom-right corner)
Subarea (includes "over" state and optional resizable bottom-right corner)
Scrollbars, progress meters, horizontal and vertical rules

158 unique icons

8 icon color themes
2 icon styles (outlined, simple)
Bonus: 12 "notification" icons!

Total PNGs: 4512
License: Attribution + no reselling the asset itself. Commercial and non-commercial use OK!
MORE ASSETS >> | BECOME A PATRON & GET PIXEL ART >>
YOU MIGHT ALSO LIKE...
Purchase
In order to download this asset pack you must purchase it at or above the minimum price of $5 USD. You will get access to the following files:
candy_pixel_art_gui.zip
6 MB
Comments
Log in with itch.io to leave a comment.
What's the easiest way to convert some of these graphics to a Nineslice? Is there a program? Awesome assets, btw.
Hi there, are you using Unity? I believe Unity supports single-image nineslices, while the asset pack has them split up into multiple images. So any image editing program like Photoshop or GIMP will allow you to combine them.
Updating the GUI packs to include single-image nineslices is on my to-do list!
Are these royalty free once purchased?
Hi there, thanks for the question!

Yes, the assets are royalty free once purchased! You can use them in any number of projects, commercial or free.
The license for all of my assets is an attribution licence and can be read here: http://untiedgames.com/files/license.txt
It also specifies that you can't resell the assets themselves, only as part of a game or application product. (The GUI assets in particular are more general-purpose than my usual assets, so I'd allow their use in any type of application.)
Nice! You've got your self a customer. Looking forward to seeing your future assets.
is it possible to have the window in a single file to let Unity do the 9 slice? same for the button
Thanks for the feedback, I've added this to my to-do list! I'll update all three GUI packs at some point to include this.