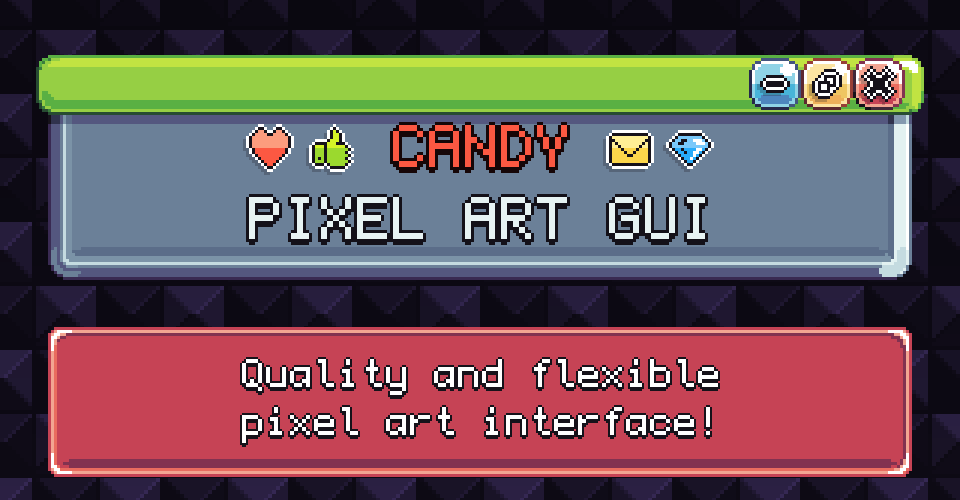 Candy Pixel Art GUI
Comments
Log in with itch.io to leave a comment.
What's the easiest way to convert some of these graphics to a Nineslice? Is there a program? Awesome assets, btw.
Hi there, are you using Unity? I believe Unity supports single-image nineslices, while the asset pack has them split up into multiple images. So any image editing program like Photoshop or GIMP will allow you to combine them.
Updating the GUI packs to include single-image nineslices is on my to-do list!
Are these royalty free once purchased?
Hi there, thanks for the question!

Yes, the assets are royalty free once purchased! You can use them in any number of projects, commercial or free.
The license for all of my assets is an attribution licence and can be read here: http://untiedgames.com/files/license.txt
It also specifies that you can't resell the assets themselves, only as part of a game or application product. (The GUI assets in particular are more general-purpose than my usual assets, so I'd allow their use in any type of application.)
Nice! You've got your self a customer. Looking forward to seeing your future assets.
is it possible to have the window in a single file to let Unity do the 9 slice? same for the button
Thanks for the feedback, I've added this to my to-do list! I'll update all three GUI packs at some point to include this.