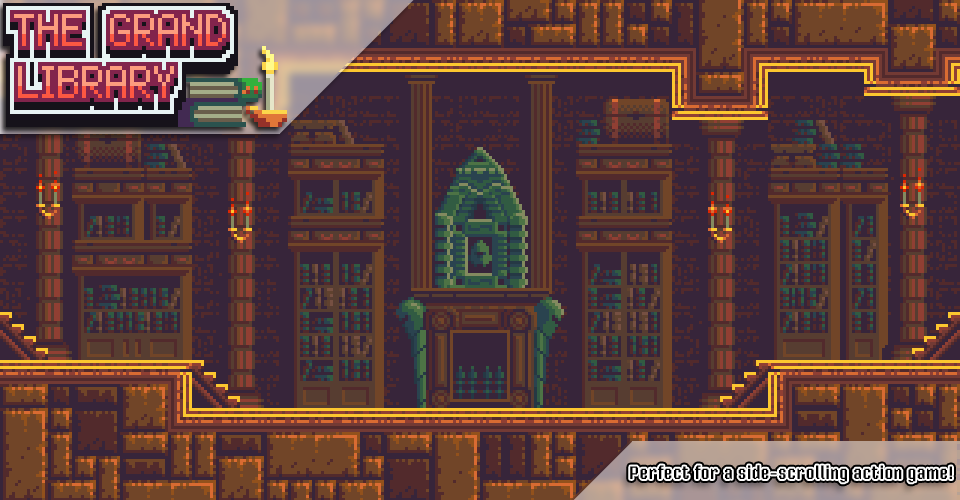 Grand Library - Pixel Art Tileset
Hey everyone! I hope you've all been enjoying the pixel art so far. I updated a lot of things recently, but I figure this asset's devlog is the best place to post, because it got the biggest update.
As part of my big pixel art + Patreon update, I've added a whopping FIVE new assets:
Shroom Hopper is totally new, and the other four were exclusive to my patrons until now. I've been slowly trying to migrate my asset collection onto itch.io, but now that itch has Patreon connectivity it's a no-brainer to pick up the pace and get everything on here! But I can't be satisfied just porting over old stuff... So Cyber Citadel, Mechanical Fortress, and Station X all received updates to color palette and minor design fixes, in celebration of their arrival on itch.io!
Grand Library also received an update, and it's the biggest of all. Grand Library has always been one of my favorite tilesets, ever since I drew it and released it all the way back in December 2015. I had always wanted to do a tileset reminiscent of Castlevania, and got really inspired by Symphony of the Night's library setting. When I finished it, it was pretty awesome.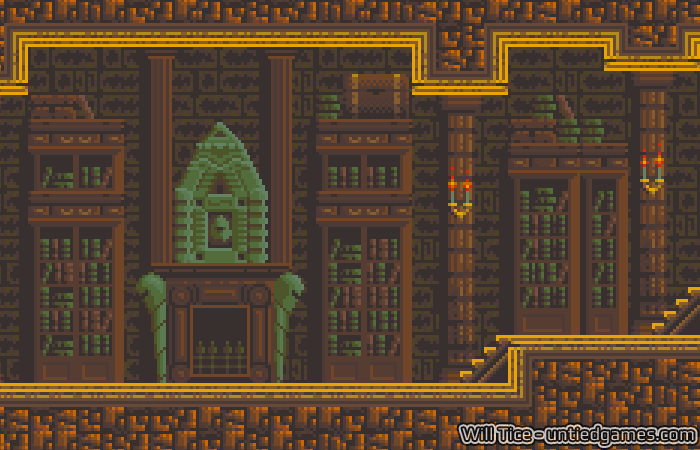 Grand Library, original version

I even made cute little holiday card based on it!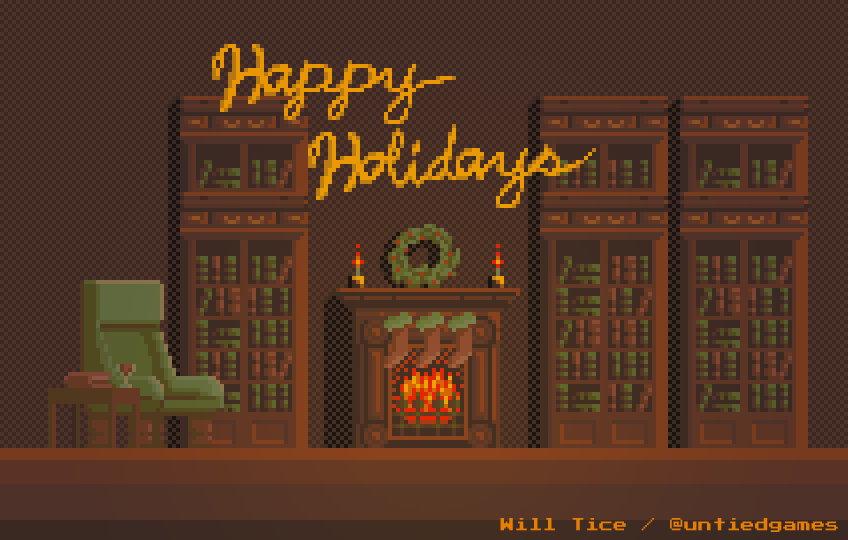 Looking back on the tileset today though, with more pixel art experience under my belt, I felt like I could make some improvements. More recently, I made a game called Demon's Hymn for Low Rez Jam 2017, and I used a low-res version of the Grand Library tileset to make it happen.
This was when I first realized that as much as I loved this tileset, it needed a refresh. For Demon's Hymn, I increased the contrast between the terrain and background. For Grand Library version 2, I did much more than that. In addition to updating the entire palette, I totally redesigned the terrain to... um... not suck, haha. The terrain was the biggest place I felt like the tileset could improve. Like, what was even going on in the terrain in the first version? It's just a mishmash of little weird-shaped blocks. With the addition of giant blocks for the terrain interior, it really makes it feel like you're in a big castle. Just the feeling I want it to give off!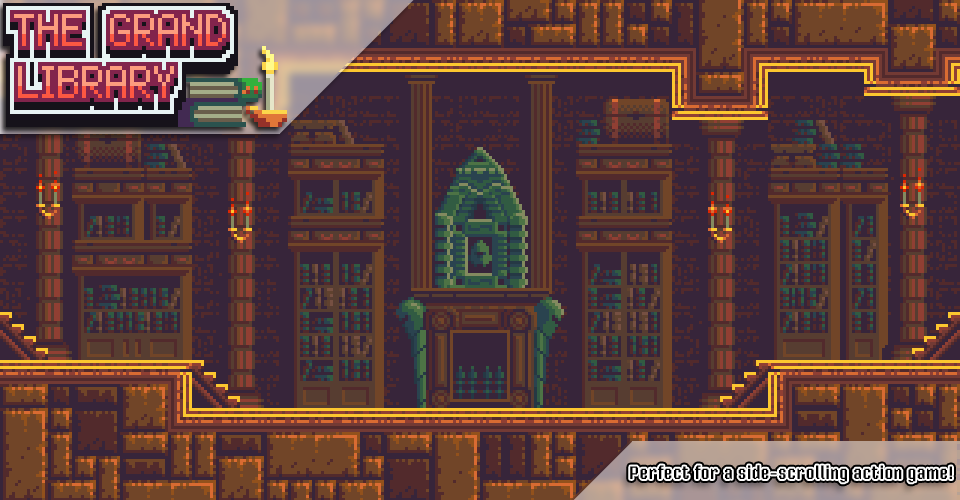 Looks loads better than version 1, doesn't it? I added new terrain blocks, refreshed the palette, cleaned up the bottom of the pillars, and touched up the fireplace, statue decorations, and background. Now I can truly say that over the course of the last three years doing pixel art professionally, this is once again my all-time favorite tileset that I've done.
This is a big milestone for me, not just in terms of my artwork, but in terms of my Patreon as well. Originally, my main Patreon reward was $5 gets you all my assets. In 2016, I switched to a "key-based" system, where every month patrons would receive keys they can use to unlock assets. My reasoning was that if I want to sell my assets on a store, it'd be weird to also offer all of them on Patreon for just $5. It was like undercutting my own business, I thought. But now, I see things needed to change. Delivering the keys and managing user accounts on my website was a nightmare of additional work. I'd gain patrons, but also lose as many as I gained because the rewards weren't good enough. And who can blame them? I wouldn't want to wait a whole month just so I can unlock one asset.
So that's where my new Patreon model comes in, to save the day! Just $5 gets you access to all of my pixel art assets 1 year old or older, while $10 gets you access to ALL of my pixel art assets! Thanks to itch.io + Patreon connectivity, there's no more waiting for keys or remembering a username/password for my website anymore. If you enjoy my art and want to see more of it, or if you want to use my art in your game, please consider supporting me. It means a lot to me!
Anyway, that's all I'm here to say today. Most people know me for my videos and pixel art, but you may be surprised to learn I'm a huge fan of walls of text as well. ;)
A video announcement for all these changes and updates will be on my Youtube channel soon. If you want to see how I draw and keep up-to date on my stuff, there's no better place!
Thank you for reading, and enjoy the art!
- Will
Get Grand Library - Pixel Art Tileset