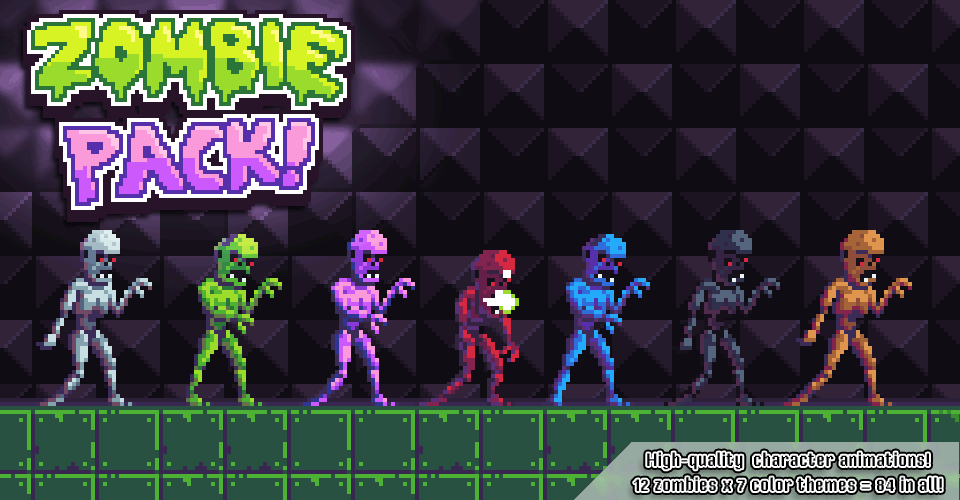 Zombie Pack - Pixel Art Monsters
A downloadable asset pack
This asset and many more are included as rewards on my Patreon!




Already a patron? Click here to download!
Halloween Update 2021!
Crawl animation added for all zombies!
Crawl death animation added for all zombies!
To have a zombie emerge into a crawl animation, stop the emerge animation partway through (before the zombie would normally stand up) and switch to the crawl animation.
INFO
With a variety of fluid, high-quality animations, the zombies in the Zombie Pack are ready to strike in your game! There are SEVEN zombie color themes, and TWELVE zombies per color theme... That's 84 zombies in all! Your game will never run out of enemies!
A demo of all animations is below.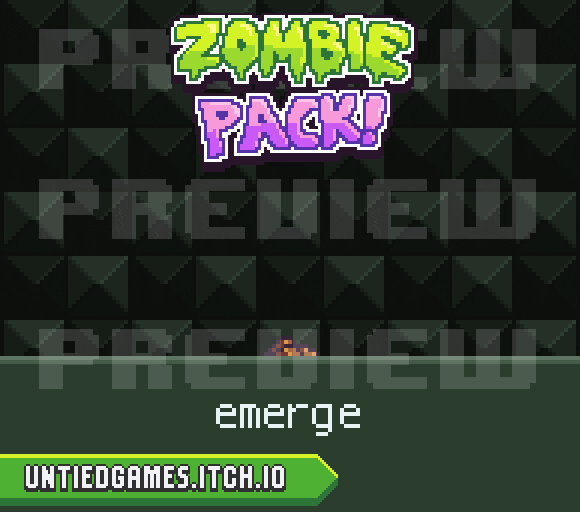 Each zombie in the Zombie Pack comes with the following animations:
Idle (12 frames)
Move (13 frames)
Attack A (14 frames)
Attack B start (5 frames)
Attack B charge-up (8 frames)
Attack B (8 frames)
Get hit (8 frames)
Die (32 frames)
Emerge start (11 frames)
Emerge end (20 frames)
Version 2.0 update: Crawl (8 frames)
Version 2.0 update: Crawl die (32 frames)
Also included:
Acid projectile (30 frames)
Acid hit effect (6 frames)
Above is a GIF of all the animations in action. Check out the screenshots on the side for some extra previews!

WHAT'S INCLUDED
PNG files for all included assets
Spritesheets for the character's animations and effects, with parsable metadata
OTHER STATS
Total PNGs (per zombie): 131
Total PNGs (ALL zombies): 11004 (WOW!)
Total PNGs (effects): 36
Color count (per zombie): 22
License: Attribution + no reselling the asset itself. Commercial and non-commercial use OK!

MORE ASSETS >> | BECOME A PATRON & GET PIXEL ART >>
YOU MIGHT ALSO LIKE...
I have some other assets you might enjoy! They go great with platformer games.
Purchase
In order to download this asset pack you must purchase it at or above the minimum price of $8 USD. You will get access to the following files:
Comments
Log in with itch.io to leave a comment.
updated but still no crawling zombie
👎
Had to update the license.txt, didn't know it would produce a notification for that.
Hang in there, it's still on my mind and with my day job last year I didn't have the time to figure out a way to do this update properly and efficiently, and focused on new art instead. There's 84 possible zombies, so it's not trivial! I might be able to find a way to automate it. Possibly in time for a Halloween update?
Sounds good, I appreciate your work and look forward to it. You are a great artist and thanks.
Very nice work! Also watched your youtube video on color palettes, awesome stuff!!
Any chance you can add crawling zombies soon to this? Thanks.
It's still on my to-do list, kind of swamped with work at the moment... A project I've been working on is nearing release.
It will definitely happen when things get less busy on my end!
Awesome. Purchased. Could you please add crawling animation? That each variant crawls towards the player? THANKS!
I actually thought of this while drawing it but forgot. Thanks for reminding me! I'll add crawling zombies in an update.