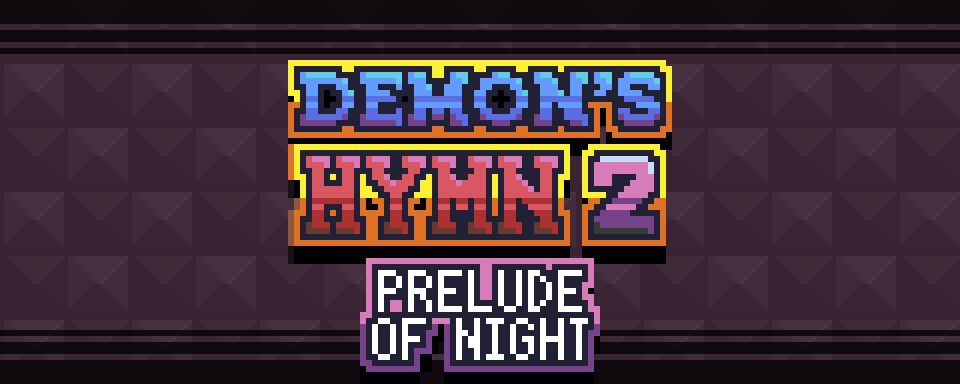 Demon's Hymn 2
A downloadable game for Windows and Linux
The devilishly hard sequel to Demon's Hymn... Demon's Hymn 2: Prelude of Night has arrived! Can you beat all three bosses?
Tips:
Dash attack for a double-damage strike!
Time your attacks to do a 3-hit combo!
Defeat bosses to gain powerups!
Keyboard, Xbox 360 controller, and PS4 controller supported!
Find a bug? Let me know about it in the comments.
If you like the game and the pixel art, and you want to support me or learn more about what I do, check out my Patreon! I make a lot of pixel art, pixel art videos, and devlogs. Join up!
If you like the incredible music by Charlie McCarron, you can download the soundtrack!
DEMON'S HYMN 2:
PRELUDE OF NIGHT
STORY
The events of Demon's Hymn 1 were a premonition. You must venture to all the holy sites in the land and slay their dark priests, who each know part of the Demon's Hymn... A dark song that must never be sung. Will you make it in time?
ABOUT
This game is no cakewalk! Prepare to battle your way through a dark forest, a winding cave, and a cursed swamp in order to slay the demon priests. Gain new abilities as you progress! DH2 has a few upgrades from its predecessor, including a lives/checkpoint system, three levels, and three bosses. Go slay some demons!
Like what I do?
Join up on Patreon and get pixel art!
CHANGELOG
--Version 1.0-- (8/16/18)
| | |
| --- | --- |
| Status | Released |
| Platforms | Windows, Linux |
| Rating | |
| Author | unTied Games |
| Genre | Platformer |
| Tags | 2D, Action-Adventure, castlevania, Dark Fantasy, Fantasy, LOWREZJAM, Medieval, Monsters, Pixel Art, Side Scroller |
Download
Click download now to get access to the following files:
Comments
Log in with itch.io to leave a comment.
Will you make a web version?
Thanks for the interest but a web version is unlikely. This was written in Java and I've since transitioned my game engine to C++. In the future, an improved Windows version or sequel is possible.
Could you make a Mac version? I could play that
When it was released, Demon's Hymn 2 originally supported MacOS. One of Apple's updates broke it and it shows a black screen, from what I heard from other Mac users. I'm unable to verify that personally.
If a new Windows version is made in the future, it may be runnable on Mac using Wine but I can't guarantee it'll work. I'm focusing future development of my games on Windows because it's my primary OS and because on Steam, 96% of users are using some version of Windows.
I'll keep it in mind that there's interest in a web version though- It's not impossible but I have to focus on other projects for the time being.

Game seems to crash on-boot
Hi there, thanks for the bug report. What OS and Java Runtime Environment are you running? Windows is recommended, and Mac is no longer supported on newer machines due to Apple dropping support for OpenGL. Linux is generally untested but should work.
If possible, please locate the log file located by default in C:\Users\(Your User Directory)\demonshymn2_log.txt and send it to bugs@untiedgames.com. Or, if there's an obvious error message, feel free to post it in a comment here.

I am running it on the latest version of Mac, and Java 16, so that is probably the reason
Ah, gotcha. Sorry about that- Nothing I can do on my end as far as I know. Thanks for reminding me to remove the Mac label from the game, at least.
Really cool, but gosh darn is it hard
Agreed! I've been planning to do a balance update for a while now (and also add 2 more levels), but work has unfortunately been keeping me super busy. I think since the level 1 boss is the most complete, it's also the hardest at the moment.
Um, I'm not sure how to do that
Are you using Windows? If so, using your Windows file browser go to This PC -> Local Disk (C:) -> Users. In that folder you should see a folder named after your Windows username. Inside it should be a file named demonshymn2_log.txt. If you're able to find it, please attach it to an email and send it to bugs@untiedgames.com.
Otherwise thanks for the bug report- Even if I'm not exactly sure what the problem is, I'll try and add some backup method of drawing in the next version. Thank you!
I am a mac user im not a windows user. Is there anything you could do though?
In that case, the log file should be in your Home folder. You can find it by opening Finder and pressing Command-Shift-H.
Without the log, I can only guess what the problem is... The game has had very limited testing on Mac, but it does work for my tester. I'll let you know when the next version is out!
Which means i cant play it as the characters or background do not show up. The thing was black.
That narrows it down a little. The gameplay section uses a different method of drawing than the title section. Would it be possible to send me the log file for the game? It should be in your user folder, like C:/Users/YourName/demonshymn2_log.txt. If possible, please send it to bugs@untiedgames.com.
Thanks for your help!
Yes the sound and title was there when it started, and the music was there, the problems was the display when i press start it does not show the window
It does not work, I saw to credits but when it started, the whole game window was black.
Hmm... That's no good. Did it display the title screen / intro animation at all, or only the credits?
Yes the sound and title was there when it started, and the music was there, the problems was the display when i press start it does not show the window.
Which means i cant play it as the characters or background do not show up. The thing was black.
It's back, THE SEQUEL. Wooooooot and it's just as good as ever. I've had a quickplay before making food and drinking fine beer and i'll be playing this babay again. Glad to see the return. Untied games ROCK!
Regards
wobblyfootgamer