Super Pixel Objects and Items
Thanksgiving Update: 50 New Food Items!
---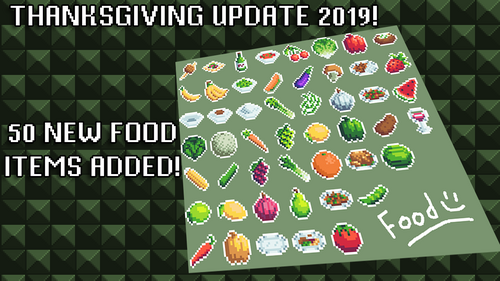 Hey everyone! To celebrate Thanksgiving, FIFTY new food-related items have been added, and this asset pack is FREE from today through Sunday, December 1!
Enjoy! A full list of new items is below. All new items are 16x16, and come in the default style (no outline), the white outside outline style, and the black outside outline style.
Orange
Strawberry
Grapes (red)
Grapes (green)
Banana
Banana bunch
Pear
Mango
Lemon
Lime
Cherry
Cantaloupe
Cantaloupe slice
Watermelon
Watermelon slice
Carrot
Mushroom
Celery
Leek
Onion (red)
Onion (white)
Lettuce
Cabbage
Corn on the cob
Pepper (green)
Pepper (yellow)
Pepper (red)
Eggplant ;)
Cucumber
Green beans
Snap peas
Empty bowl
Empty plate
Bowl of peas
Spicy pepper
Tomato
Potato
Baked potato
Stir fry plate
Rice bowl
Curry and rice plate
Turkey
Turkey dinner plate
Mashed potato bowl
Wine/beer bottle
Wine glass
Appetizer A (meatball on toothpick)
Appetizer B (spread on cracker)
Spicy curry plate
Tomato soup bowl
Additionally, I've made some fixes to the outlines on the coins to make the animation smoother.
Happy gamedev!
- Will
Get Super Pixel Objects and Items