Super Pixel Objects and Items
Holiday Update 2019: 30 New Treats!
---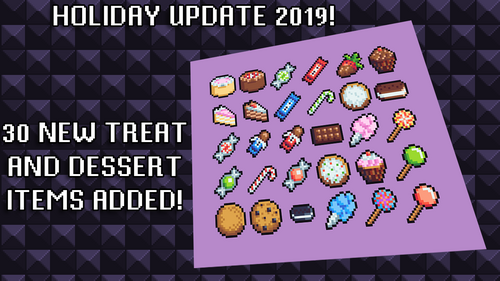 Hey everyone! To celebrate the holiday season, THIRTY new treat, dessert, and candy items have been added!
Enjoy! A full list of new items is below. All new items are 16x16, and come in the default style (no outline), the white outside outline style, and the black outside outline style.
Candy A (green peppermint)
Candy B (red peppermint)
Candy C (green hard candy)
Candy D (red hard candy)
Lollipop A (lemon/cherry swirl)
Lollipop B (wild berry swirl)
Lollipop C (sour apple)
Lollipop D (cherry)
Chocolate bar
Candy bar A wrapped (blue)
Candy bar A unwrapped (blue)
Candy bar B wrapped (red)
Candy bar B unwrapped (red)
Cookie A (plain)
Cookie B (chocolate chip)
Cookie C (sugar frosted)
Cookie D (sugar frosted with sprinkles)
Cotton candy A (pink)
Cotton candy B (blue)
Cookie sandwich
Ice cream sandwich
Candy cane A (red)
Candy cane B (green)
Cupcake A (raspberry frosted)
Cupcake B (chocolate frosted)
Chocolate strawberry
Cake A (vanilla)
Cake slice A (vanilla)
Cake B (chocolate)
Cake slice B (chocolate)
In this update I've also fixed some food items added in the previous update that didn't have the correct black outlines.
Happy gamedev!
- Will
Files
super_pixel_objects_and_items.zip
3 MB
Dec 26, 2019
Get Super Pixel Objects and Items