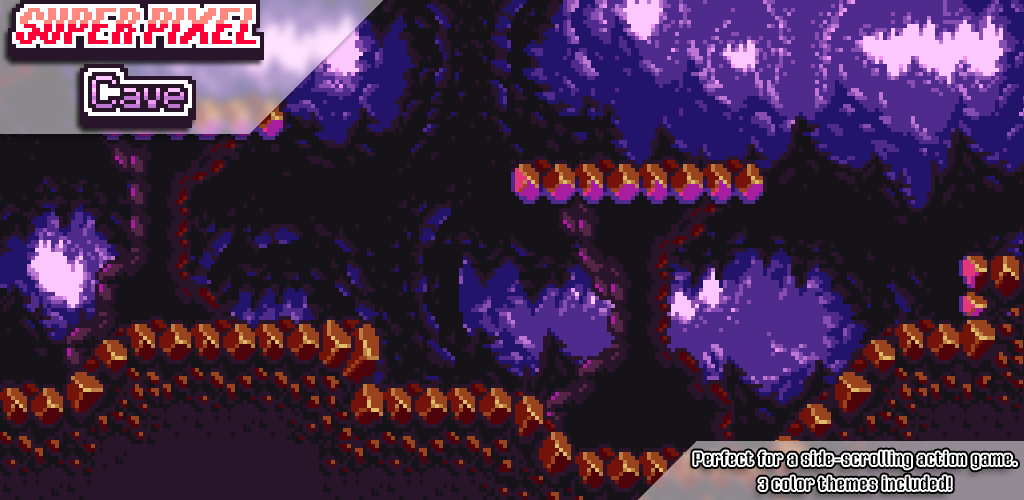 Super Pixel Cave Tileset
A downloadable asset pack
Unlock a bunch of pixel art by supporting on Patreon!
Update!
To celebrate the release of my Retro Pixel Cave tileset, I've added an additional color theme to Super Pixel Cave! This color theme uses the Dawnbringer 32 palette.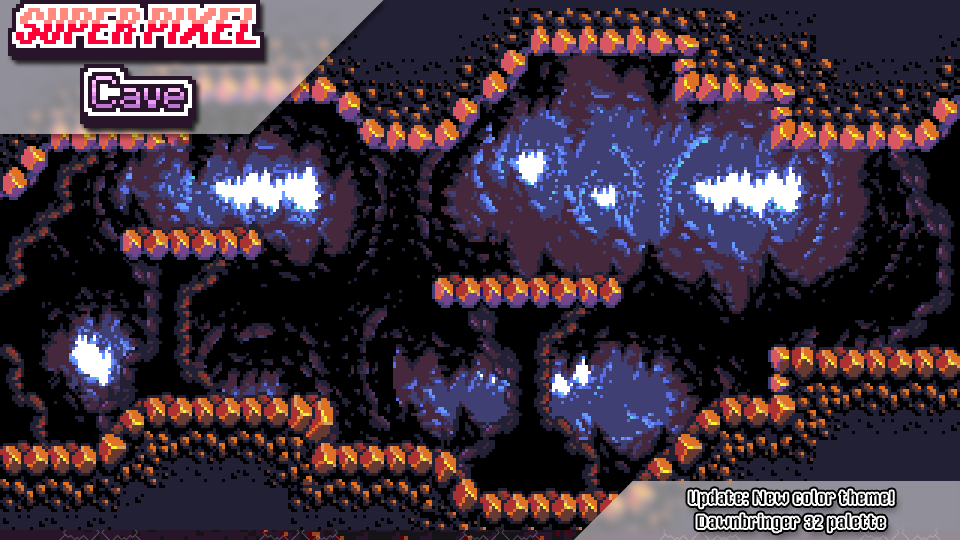 INFO
Welcome to the Super Pixel Cave, the first tileset in my Super Pixel series! This SNES-inspired tileset would be a perfect fit in any platformer, metroidvania, or roguelike. Modular terrain pieces give you the freedom to create many different level layouts, including slopes for both ceiling and floor. Floating platforms can be created by attaching terrain pieces to midground rock formations, making your levels look realistic while adding a new dimension to gameplay. Triple-layered backgrounds are designed especially with parallax in mind, and loop both horizontally and vertically. This tileset also comes with three additional color themes! Check out the screenshots on the side for some extra previews!
Parallax scrolling preview:
Curious how it was made? WATCH ME MAKE THIS TILESET >>
WHAT'S INCLUDED
Layered PSD containing the example image
PNGs of pre-assembled objects/tiles (terrain, midground rock formations, background caverns, etc.)
Spritesheets for each tileset style with your pick of 2 metadata formats (PNG, JSON/TXT)
Pyxel Edit file containing the original tileset theme and example image
Four beautiful wallpapers to adorn your desktop
OTHER STATS
Total PNGs: 38 (per color theme)
Tile size: 16x16 terrain, 8x8 midground
Color count: 16
License: Attribution + no reselling the asset itself. Commercial and non-commercial use OK!

MORE ASSETS >> | BECOME A PATRON & GET PIXEL ART >>
YOU MIGHT ALSO LIKE...
Download
Click download now to get access to the following files:
super_pixel_cave.zip
1 MB
Comments
Log in with itch.io to leave a comment.
Hi! I plan to use your designs in my Destiny Oblivion game
Nice! Got a link to your game's site? I'd love to follow development.
Wow, this asset pack looks amazing! Kudos for the fantastic job! :)
Thank you, I'm glad you like it! If you enjoyed this, you might also like Super Pixel Plains. Can't wait to make more in the Super Pixel series!
Your Super Pixel Plains looks awesome as well! Looking forward to seeing what you do in the future :)