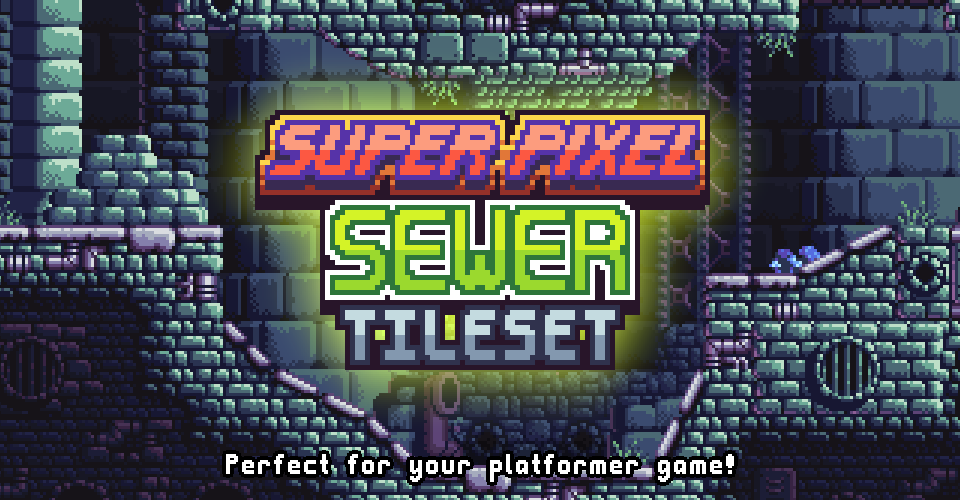 Super Pixel Sewer Tileset
A downloadable asset pack
This asset and many more are included as rewards on my Patreon!




Already a patron? Click here to download!
INFO
Welcome to Super Pixel Sewer! This is a flexible sewer-themed platformer tileset inspired by SNES-era graphics. Check out the screenshots for some previews and example scenes!
This tileset would be a perfect fit in any platformer, metroidvania, or roguelike! Modular terrain pieces give you the freedom to create many different level layouts, including slopes for both ceiling and floor. 30 degree, 45 degree, and 60 degree slopes are included!
Floating platforms can be created by attaching terrain pieces to midground elements, making your levels look realistic while adding a new dimension to gameplay. Dozens of decorations and alternate terrain pieces are included to help your levels come to life as your player walks through them. Game objects such as destructible blocks, toxic barrels, an elevator, and more are included. Two types of spikes are included, and come in 4 directions.
Four background layers are included, and are designed with scrolling and parallax in mind. They loop both horizontally and vertically. This tileset comes with three color themes in all!
WHAT'S INCLUDED
Example images (PNG)
Layered PSD containing the example image
Three color themes for the tileset
Individual PNGs of tileset objects and tiles (terrain, background, decorations, etc.)
Intuitive spritesheets for each tileset color theme with easy-to-parse metadata files (PNG, TXT)
Nine example images, which double as beautiful 1920x1080 wallpapers to adorn your desktop
Readme file with tips and tricks, to give you a quick start!
OTHER STATS
Total PNGs: 263 per color style
Tile size: 16x16
License: Attribution + no reselling the asset itself. Commercial and non-commercial use OK!

MORE ASSETS >> | BECOME A PATRON &; GET PIXEL ART >>
YOU MIGHT ALSO LIKE...
Purchase
In order to download this asset pack you must purchase it at or above the minimum price of $12 USD. You will get access to the following files:
Super Pixel Sewer.zip
3 MB
Comments
Log in with itch.io to leave a comment.
Very cool. Well done. Hey, what font did you use for the title image "Super Pixel". I like it.
Thanks, glad you like it! The fonts are all hand-drawn, but I've been thinking about doing font packs at some point (once I figure out a workflow). For "Super Pixel" specifically those are the only glyphs that I drew because they're all I needed! The fonts for "sewer" and "tileset" on the other hand are actually complete with ASCII characters 33 through 126.